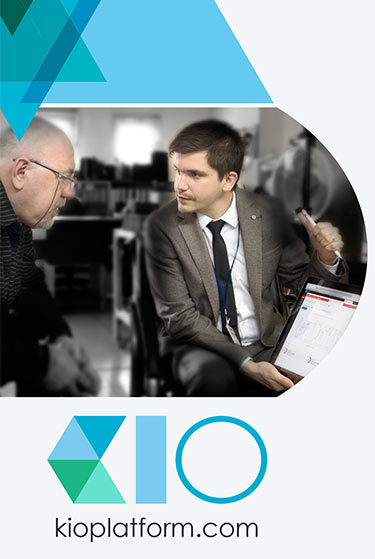 WHY DID ALTEK PREFER KIO?
ALTEK
• Since 1971, Altek Döküm A.Ş. has been operating in the metal industry of copper and copper alloy products. And Altek Döküm A.Ş. is currently serving to the industries of electrics, electronics, automotive, textile, plumbing, automation, defense industry and bank note printing house.
• Altek Döküm A.Ş. has chosen KIO since 2016 to monitor the energy consumed by its production processes and at the same time to report all this energy consumption reliably and easily.
• KIO has made it easy for us to interpret our energy consumption and use our energy more efficiently. We have a SCADA software that we use in our business to monitor our energy, but KIO offers a much more efficient and quick use thanks to its advanced reporting functions and user friendly interfaces. For this reason, we monitor our consumptions related to energy on KIO easily.

IS IT IMPORTANT FOR

ALTEK

TO

MONITOR AND REPORT ENERGY CONSUMPTION

, AND TO CONTROL THE REACTIVE ENERGY?
• It is imperative that we monitor our reactive consumptions and keep them below the legal limits.
• Otherwise, very serious criminal sanctions may be encountered by enterprises like ours, with very high electricity consumption.
• Also, another important reason that we prefer KIO is that it enables us to see the operating times of our production lines and to easily monitor the malfunctions or down times.
ALTEK
• During our adaptation phase to KIO, we used to periodically transmit our energy consumption reports to the general directorate.
• With the help of these reports it was found that the machines were closed 10 minutes earlier than when they were supposed to.
• Once this was revealed, we gave the necessary warning to our employees and gained a serious advantage.
• It is very important for us to have a quick and complete respond to the problems we might have, thanks to the competence of the project technical support team.
• KIO is a very useful software for our business because of its ready to use solutions, modular structure and user friendly interface.

THERE ARE MANY DIFFERENT DEPARTMENTS IN ALTEK. WHICH DEPARTMENTS DO YOU MONITOR AND HOW?
ALTEK
• We monitor our daily electricity consumption, reactive rates constantly through KIO.
• We can also analyze the energy quality of our factory via KIO. Apart from consumption, we also monitor our harmonic levels constantly and we make improvements according to the analysis results we have obtained.
WHAT PARTS OF YOUR BUSINESS DO YOU MONITOR AND REPORT WITH KIO?
ALTEK
• With KIO we monitor all machines based production departments.
• It is important for us that the functional and technical support team of the software is solution oriented.
• The SCADA system we used in our business was not sufficient in terms of energy efficiency. Together with KIO, energy management and monitoring process led to an increased operational efficiency.

ADVANTAGES YOU GET BY USING KIO?
ALTEK
• First of all, time saving and productivity Continuous control of our machines, our consumption and down times, thanks to real time monitoring, increased our operating efficiency.
• When the alarm conditions that we have specified are encountered, we are able to direct maintenance teams very quickly thanks to the alarm system which sends warnings to us through e-mail.
ALTEK
• KIO saved our business from a serious criminal sanction that could otherwise be incurred thanks to its alarm module.
• For example, when there is maintenance activity in our business, no production is made for one full week.
• In this process, we noticed thanks to an e-mail from KIO alarm module some of the machines that remain running during this period actually caused us to exceed the reactive rate limit, so we intervened the situation by going to the factory with little time to spare until the billing period.
• Thanks to the advanced alarm module, KIO has saved us from paying a substantial amount of fine.

Real Time Power Management and Alarm Notifications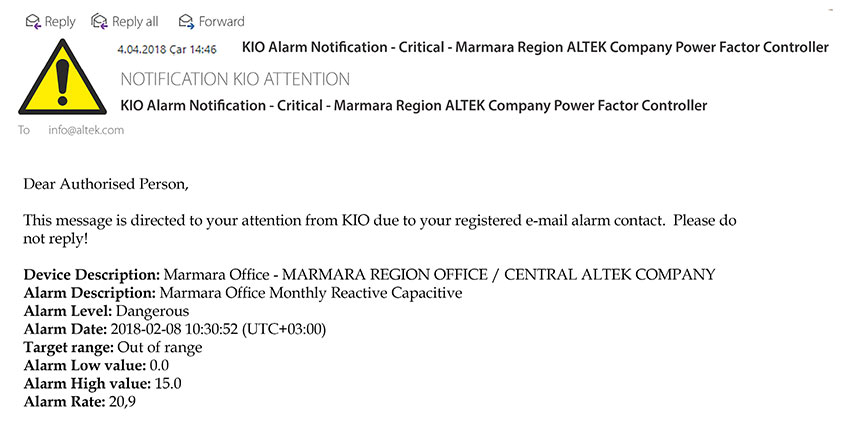 Real Time Power Management and Alarm Notifications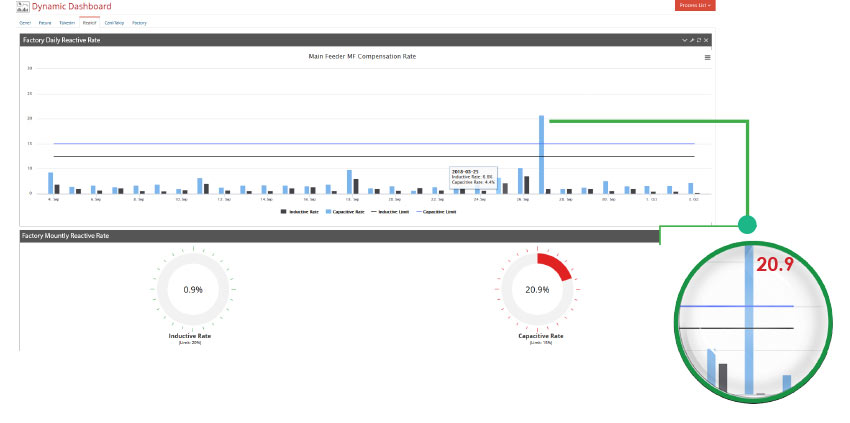 Real Time Power Management and Alarm Notifications