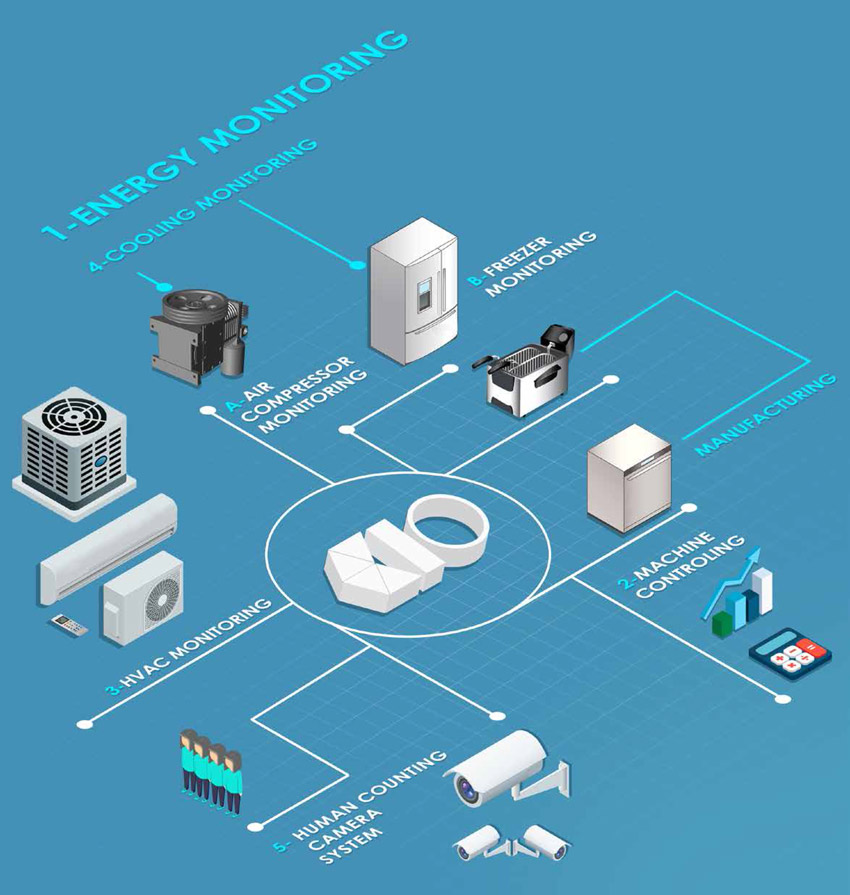 1 ENERGY MONITORING
You can make Real Time Monitoring and Correlation Analysis of Energy Costs in several different areas such as Production Line, Lightings, and HVAC System for different timing.
3 HVAC MONITORING
You can provide the most optimal HVAC Operation with KIO Platform by gathering and analysing the information received from Human Counting Camera System located in the restaurant
5 HUMAN COUNTING CAMERA SYSTEM
All inbound and outbound customer moves are real-time counted and analysed in Daily / Monthly basis for all branch locations. The cashier numbers can be modified due to restaurant work load and also customer attitudes.
The total customer satisfaction level can be increased with the general occupancy coordination.
2 MACHINE CONTROLLING and COST MANAGEMENT
By correlating the sales figures with production costs , you can find the ideal optimization parameter of max sales ratio with minimum energy cost of production; and you can increase the total profitability in each step of the process
4 COOLING MONITORING
A-Freezer Monitoring
Improperly closed or frequently opened/closed doors are the biggest problem of the cooling rooms.
In such cases, the outside hot air enters inside and raise the room temperature.
This condition poses a food spoilage threat inside and also unnecessary increase of the energy costs to maintain the required level of inner temperature
Other negative consequence is the ice on the doors. This unwanted icing can be eliminated by a manual breaking work and creates waste of time and money
Thanks to the sensors installed in the room doors and Klemsan EASIO Remote I / O Module, KIO can monitor and count door open and close-up cycle in real time.
B-Air Compressor Monitoring
You can monitor the run hour timing and the energy consumption of the Air Compressor thanks to our POWYS 1 Series Energy Analyzers located in Air Compressor panel.